You could WIN a Collinson silo!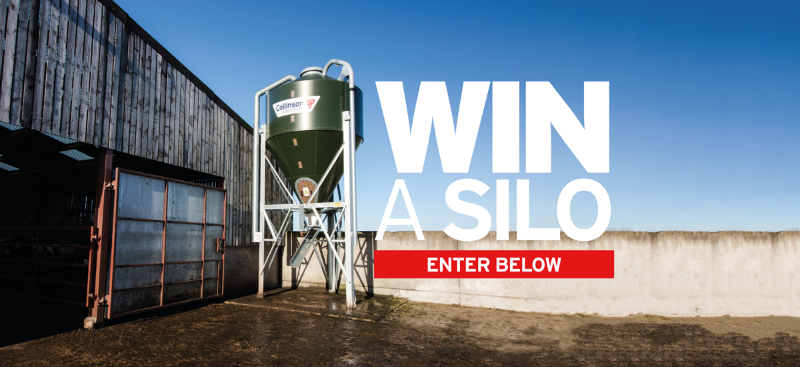 We believe storing feed hygienically and reducing manual handling is important for any farm. That's why, in our first ever silo competition, we're giving away a silo to one lucky winner!
Why give away a silo?
If you know Collinson, you know we're passionate about helping farmers improve their feeding efficiency.
First of all, it's no surprise we think bulk feed storage is important. Most of all, a silo means better biosecurity, which is especially relevant in the midst of bird flu scares.
But it isn't just poultry installations that can benefit—silos are fantastic for reducing all vermin and keeping feed fresh, positives for any farm.
Also, you'll reduce manual handling by storing feed in a silo, which Health and Safety Guidelines recommend.
Finally, a silo means saving money on feed purchases. Something as simple as moving from bagged to bulk feed storage can save a farm a small fortune—as much as £70 per tonne!
Those are just a few of the reasons we're giving one away in our first ever silo competition.
Another reason?
To give back to an industry we're proud to be part of.
"We've been working alongside farmers for more than 50 years," says Sam Collinson. "This is our way of showing appreciation to the industry that's supported us."
Read more: 2 Key Reasons to Store Your Feed in a Silo
How to enter the silo competition
If you're a UK resident, from 6th February to 16th May you can enter by visiting winasilo.collinson.co.uk and filling in the simple form.
Or, visit the Collinson stand at The Pig and Poultry Fair where we'll have iPads and paper entry forms ready. All eligible participants can enter once.
We'll be drawing the winner of the silo competition at random, before making the announcement via social media on Friday 18th May.
Due to the large nature of the prize, there may be an additional cost for transportation to any winner outside the UK mainland. Full terms and conditions are available here.
For competition updates, just like our Facebook page. Or, follow us on Twitter where we'll be sharing all giveaway-related posts using the hashtag #winacollisilo.
Most of all… Good luck!