Collinson to design and build Badminton's new sports facility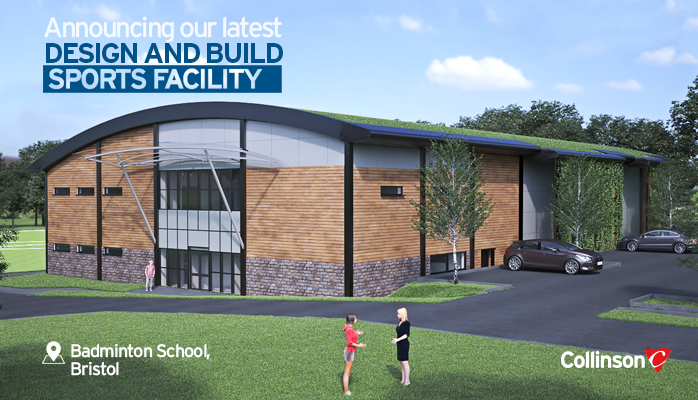 We are pleased to announce an appointment for the design and build of a brand new sports facility at Badminton School in Bristol.
The new sports centre will be Sport England compliant, comprising court space for basketball and four badminton courts. A flexible facility, it will also accommodate a range of other activities including netball, trampolining, hockey, and circuits.
"We're very much an international school, so we wanted to ensure that the new sports centre has the facilities that international students are perhaps more familiar with," said Melanie Tiley, Director of External Relations at Badminton. "As well as the core UK sports, we'll be able to offer basketball and badminton, for example."
Additionally, the facility will feature a fully equipped fitness suite; an indoor climbing wall; a fencing piste; club style changing rooms; and internal and external viewing galleries. The school are also pleased to be able to offer a sports therapy room for physiotherapy and sports assessments, keeping the girls and the community well.
Attractive and functional
Care and consideration have been taken for the creation of an appealing exterior. Sedum roofing and cedar cladding will complement an exterior living wall to create an attractive facility that constitutes a considerable upgrade to the school's current sports provision, removing any pre-existing barriers from the Badminton girls' limitless ambition.
"Sports and fitness are an integral part of life here at Badminton," said Melanie. "What we've recognised is that physical wellbeing definitely helps your mental wellbeing. You get active and focus your mind, which then has a positive impact on other things that you do."
"Being an international school with boarding, it's really important that the girls have access to facilities—both in and out of curricular time—to develop their interests and try new things in a safe environment."
Established reputation
Badminton chose Collinson for the development of their new sports facility on the strength of a well-established relationship; Collinson have worked closely with the school and other professional advisers throughout the process. The school were also impressed with Collinson's established reputation, reputable service, and flexibility in design.
Ground now broken, staff and girls alike are looking forward to a state of the art sports space which will free up other areas of the campus for activities such as music and drama, thus improving life at Badminton on several fronts.
This year was also the first that Badminton offered GCSE P.E. as part of its curriculum. Introduction of the new facility will allow the school to open up GCSE and A level P.E. to more students.
"We have a swimming pool here, which is great, but this will really enhance those facilities and round it all off," said Melanie.
Not only will the sports centre help Badminton students to realise their ambitions; it's hoped parents, the immediate community, and teaching staff will all benefit from the space.