Rain delays cut training time for cricket and other sports


How can we combat wet weather?
'Rain stopped play could finally be a thing of the past', reported Telegraph Sport on Tuesday, as they announced testing of new U.S. mesh technology that could cover cricket grounds to make them impervious to rain during match time.
According to the article, MCC's new Chief Executive, Guy Lavender, confirmed wet weather "is an enormous issue for cricket."
It's certainly impressive technology. Although, being sports facility specialists, we have first-hand experience wet weather affects more than cricket, and not just during match time.
To give a figure, Journalist Alfie Yarmouth calculated that in Manchester in 2013 it rained 193 days of the year. That puts a significant crimp in outdoor time for any sport.
Training versus playing time
Given teams spend more time training than playing, practice time is usually most affected. Take football, for example—some young teams are expected to train up to 10 hours a week, with just 90 minutes of match time.
If training is continually put off due to wet weather it could hinder the progress of future young sports stars, preventing them from reaching their full potential.
While match facilities matter, usable training facilities could have a far greater impact on ultimate match outcome if teams are able to practice.
Cricket facility case study
At Eversley Cricket Club, for example, a state of the art indoor facility opened up four lanes for year-round training. The club have been able to host indoor matches during wet weather in the centre game-playing cage. Another feather in their cap, they are now members of the indoor league running October through December.
The club makes use of the facility during peak time, evening, and weekends, and have seen an increase in revenue through hiring out to other cricket and bowling clubs. They have also worked closely SuperSportz, a group offering one-to-one and group coaching sessions.
Nick Compton, Monty Panesar, and Charlotte Edwards MBE—during her time as England Captain—have all regularly trained at Eversley, testament to the quality of the facility.
Said Alan Budge, Vice Chairman of the Club: "Indoor facilities are few and far between. The savings made by choosing a Collinson building rather than a traditional build made our dream a possibility."
He also stated that whilst the outstanding standard of cricket played at Eversley was perhaps not wholly attributable to the training facility, it was pretty close—and "by utilising this fantastic facility and having good coaches we give every player, young or old, the opportunity to excel."
Former England cricketer, Devon Malcolm, reiterated this sentiment when the Centre officially opened in 2012, commenting that Eversley had, "an outstanding facility."
Indoor training for less
Providing an indoor training facility could make a huge difference to sporting success at your club, school, or University.
If you believe your team could benefit from indoor practice but are concerned costs may be prohibitive, we encourage you to call us for a chat.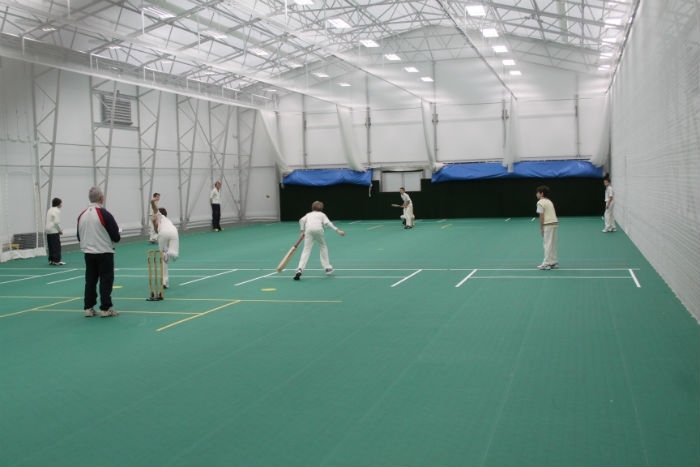 Pictured above: Eversley's indoor training facility, designed and built by Collinson