#Farm24: Chatting with Ian, Agricultural Services Manager

Got a Collinson silo? You've probably spoken with Ian
Collinson's Agricultural Services Manager, Ian Wormleighton, is always busy. Juggling delivery slots; liaising with different departments; making sure wagons, personnel, and products are in the right place at the right time... it's a busy job, and Ian does it well!
Being Agricultural Services Manager, he's heavily involved in deliveries and liaising with farmers; so if you have a Collinson silo, you've probably spoken with Ian.
That makes Ian a great person to chat with about the ins and outs of Collinson's delivery process. To see Ian's full #Farm24 video click here.
We snagged him for a quick chat afterward.
Ian, your job involves managing a lot of 'moving parts'. What's your priority?
Always, it's making sure silos are delivered to suit the customer's own timescale, whether that's early morning, late evening, or shifting things to suit.
Whenever a delivery is being arranged there's a lot to consider—capacity, location, existing orders—but the customer needs to come first. Wherever possible, I'll schedule for the customer and fit the rest in later.
I bet organising the diary can be a challenge!
Well, we do have a lot of orders to slot in. In June, we delivered well over a hundred silos, I believe.
We manufacture all silos on site and bespoke to order, so of course that needs to be factored into any timeline, as does the customer getting their base down in time.
We do what we can to shorten lead times and fit things in so the whole delivery chain is streamlined. Better for the customer, better for us.
Sounds complicated! Walk me through the delivery process?
About three weeks before delivery we call the customer to give them an exact date.
It's also at this point we remind them their base needs to have been down for at least two weeks before we can install, to let the concrete 'go off'.
A week before delivery, we call again to make sure everything's still on track and there haven't been any issues with getting the base down, for example.
Once it's out for delivery the driver will also give the customer a call to let them know he's an hour away from site.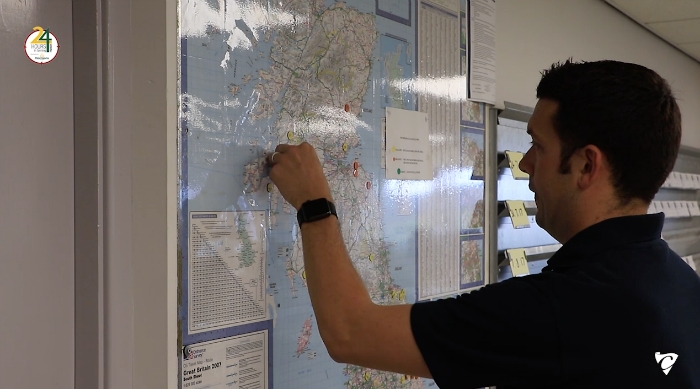 On average, we deliver around 30 silos a week. How many of these are bespoke?
All of them! Any silo that goes out of our door has been manufactured to a spec decided by the customer.
Wow! Surely it would be easier to just make standard models?
That's true, but it's not what Collinson are about. Having a silo that's been manufactured bespoke to order means the customer gets full benefit, which is what matters.
If a customer prefers to have the silo sight glasses pointing toward the kitchen window so they can monitor feed level, or if the filler pipe would be better for the feed company in a certain position, we'll accommodate.
Collinson silos are built to last, so they need to be suited to the needs of the farmer.
WATCH: Ian talks deliveries for #Farm24
Follow our #Farm24 story
We'll be active all day on Facebook and Twitter with videos, pictures, and more! Join us and share your farming story.