#Farm24: Visiting Goodier's Farm

Making each 24 hours easier at the Goodier farm
Father and son Leonard and David have been working with Collinson since the eighties and haven't looked back since. With a total of 21 silos over two sites, it's difficult to know where to begin!
WATCH: Leonard's #Farm24 video
We'll start with the 13 TriStor silos. Due to their lower height, the TriStors were ideal for the farm's method of mill 'n' mixing feed.
The model has clearly worked for them as they recently invested in two more!
Innovative new roof hatch
Not too long ago, we innovated a brand new "lay flat" roof hatch operable from ground level using a simple handle, facilitating safer and easier filling and feed management.
The two new TriStors at Goodier's farm feature this innovative roof hatch, a design they liked so much they're now looking to roll out a retrofit of existing silos across their sites.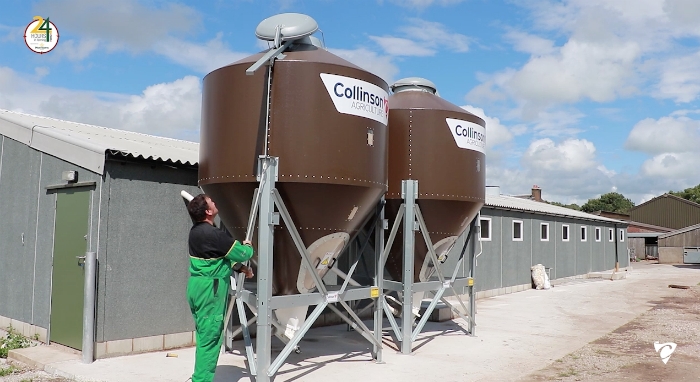 Completing their complement of Collinson bins are S3 silos from the County range.
With its steep 67° cone the S3 is well-suited to poultry setups like Leonard and David's, enabling abrasive and mealy feed which would usually exhibit poor flow characteristics to discharge smoothly.
Pig systems at Goodier's
David Goodier is passionate about pig farming; as he puts it, it's not a job, but a vocation. Within their pig grower units the BluHox feeder is well-used and well-liked; David has praised the ease of the system, commenting that, once set, there's really no need to touch it again.
One reason the Goodiers decided on the BluHox for their pigs was the trial data which proved its effectiveness in achieving maximum growth in the best time.
An ad lib feeding system that gives pigs easy access to feed and fresh water, David gives credit to the BluHox for his consistently excellent growth rates.
READ MORE: See our Pigs brochure
According to David, at Goodier's, their usual set up consists of prefabricated builds combined with a complete Collinson feeding system. To date, alongside the silos and BluHox there are Dump Feeders, Dos 7 Feeders, and Rotaflex conveyor systems, all supplied by Collinson.
Supporting farmers 365 days a year
We're proud to contribute to making each day easier at Goodier's farm. We wish Leonard and David a successful future, and a continuingly productive relationship with Collinson.