Ways to tackle construction site theft
Construction site theft is an ongoing problem. Luckily, there's an economical way to help prevent it.

In a survey carried out by the Chartered Institute of Building, 92% of respondents confirmed they had been affected by theft. Twenty-one percent reported weekly site robbery. Amongst those items most frequently taken were plant, fuel, materials, and personal possessions of workers.
Tool and plant theft costs industry millions
Estimates put construction industry losses at £800 million a year due to thieves. The reality may be worse—from January to August of 2016, reported figures found robberies cost construction more than £900 million when accounting for replacement equipment and increased insurance premiums.
To those in the industry, it will come as no surprise that site theft has reached epidemic proportions. Still, taking stock of the figures brings home just how much of a problem crime is for construction.
So what can be done to tackle it?
Preventing construction site theft
For opportunistic thieves busy construction sites are the ideal target. Combine many faces and unattended equipment with a changing landscape and you have an opportunist's delight. Add in that construction equipment and tools are designed for mobility, and it's small wonder theft is a continuing problem.
Potential steps to tackle site theft could include the introduction of operational security measures, such as training staff to properly secure tools and machinery.
Alternatively, physical security measures like CCTV and lighting can help by removing anonymity to deter would-be thieves.
Other physical measures you could choose to invest in are:
Security barriers.
Immobilisers to secure construction vehicles.
Sophisticated anti-theft measures such as chemical tracking.
Of course, when operating under a tight deadline, the installation of preventatives can end up playing second fiddle to swift turnaround. Why invest in onsite security measures that may be expensive to implement and time-consuming to put in place?
Secure, portable site storage
There are security measures that have been designed to account for the transience of the industry.
READ MORE: Sturdy and secure steel storage solution
For example, HandiStor steel storage containers are demountable and can be flat packed when not in use. They can be moved between sites, easily transportable through areas that may otherwise be hard to reach.
HandiStor containers can be flattened to fit down the side of a house, for a residential project, and erected in the back garden—or nestled into a site corner that may otherwise have gone unused.
Something as simple as restricted access could be enough to deter a prospective criminal. Securing materials inside a locked, steel storage container like HandiStor offers not only physical asset protection, but psychological, making budding thieves think twice about making an attempt.
Unattended equipment is the biggest draw. HandiStor works to secure tools and materials when you're not around.
WATCH: Assembling HandiStor
In addition to robust protection and the ability to withstand long term outdoor exposure, HandiStor containers are also fully customisable, offering an array of roof, window panel and flooring materials to suit requirement.
At their core, HandiStor containers are an inexpensive, ideal onsite storage solution that implement swift tool security from one project to the next.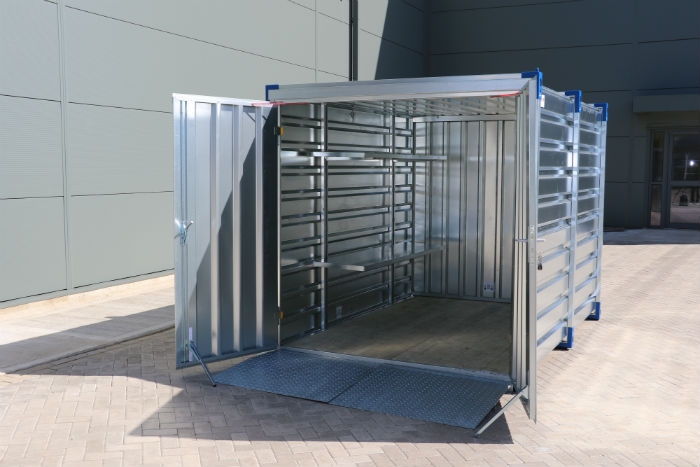 Don't be a statistic—call Collinson on 01995 606 451 today to secure your site.